For 7 years (wow, that sounds crazy), I barely made any bracelets. It's weird… Wrist wear ideas haven't came to me naturally in the past, perhaps because I don't really wear some myself (altho I like when I see them on other people), which makes me 1- not think about them a lot, 2- not really "get" them. What I mean by that is hard to explain… It's as if necklaces and earrings are like a comforting and yummy homemade meal, and then as if I had to cook molecular cuisine. lol!
I have made maybe 4-5 of them over the years, but they didn't sell or didn't get much attention, which reinforced my "bracelet impostor" sentiment.
Last year, I started to warm up to the idea tho, after a couple of craftshow clients pointed out the lack of, and after having one very strong bracelet idea. ONE. haha! This one: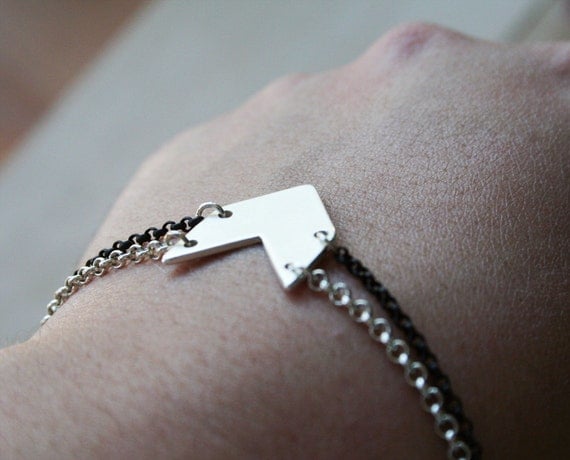 That little silver plated chevron SCREAMED bracelet to me, so I put my resistant little ass aside (lol) and went for it. What did I know, at the next PucesPop, the 5 I had  sold out before the end of the Saturday, and I was making 10 more that night for the last day of the show. They didn't all sell (let's not get carried away haha), but clearly my ONE bracelet was a hit!
What followed was a semi-unblock of my bracelet strike! I won't lie, it's still a little hard for me to create them. I always wonder about length, how they "fall", how they move, how how how… But, working on it! ;)
Talking about length, if ever you want to share your "ideal bracelet length" with me, please go ahead in the comments, that would be insightful! At shows and with online sales, I can adjust for you, but for bricks&mortar shops, I have difficulty figuring out what's a "good general size" to make it accessible to as many people as possible, since I am not there live to adjust to someone's liking.
Meanwhile, he's a little recap of my other available bracelets at this time! :)